Glenn and I are on a little getaway in Santa Barbara this week! A dear friend of mine offered up her home while they are out of town! We couldn't say no, and are already having a blast exploring town and chillaxin. Despite my vay-cay, I HAD to take a minute to post and tell you all about the chocolate chip cookies I made a few days ago.
If you follow me on Facebook or Instagram, you already know I was testing out a couple of chocolate chip cookie recipes. I kept seeing this recipe for The NY Times Chocolate Chip Cookies come up on fellow food lover's sites and photo streams, so I wanted to test it out and compare it to my favorite Thomas Keller Chocolate Chip Cookies. Really, I just wanted an excuse to make a ton of cookie dough, so this worked out perfectly.
The ingredients vary slightly. Â We'll start with the Times recipe, which makes a monstrous amount of dough for a monstrous amount of cookies, so I froze about 3/4 of it and will bake them when you come over for dinner. I weighed the ingredients out for this recipe, and I am glad I did. If you have a food scale, I would highly recommend weighing your ingredients so you know your measurements are accurate!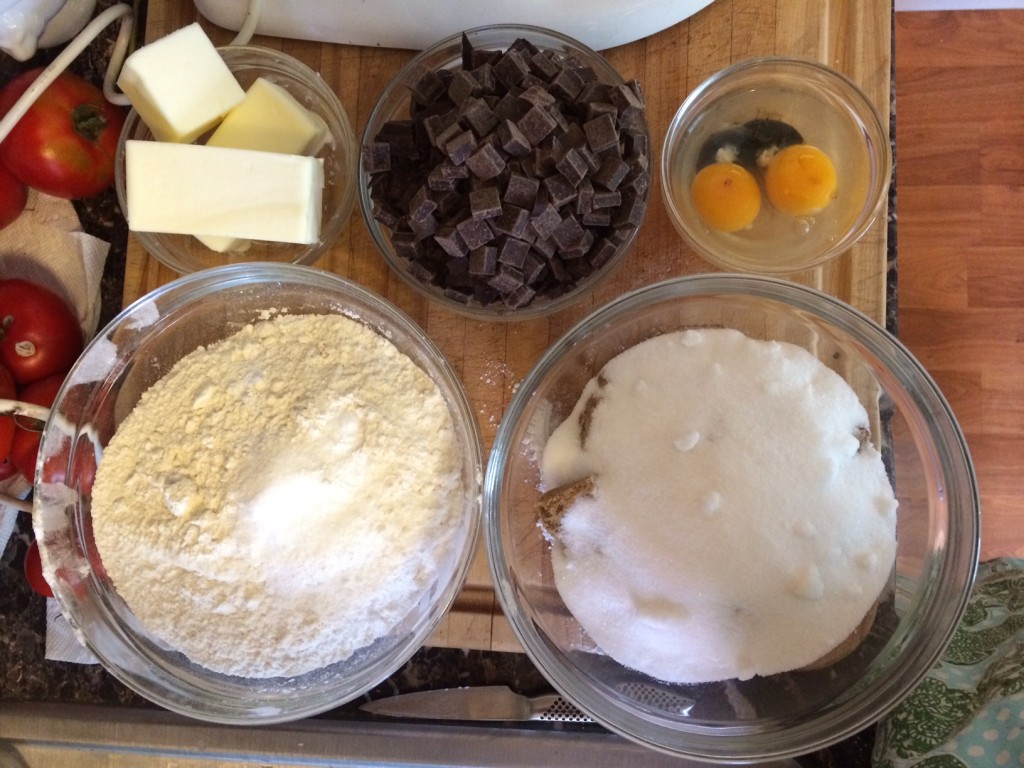 This recipe has cake flour, bread flour, baking powder, baking soda, light brown sugar, granulated sugar, butter, dark chocolate (I used 72%), eggs, vanilla, and sea salt. Don't mind the tomatoes. Those are from my garden (GLORY! THEY GREW!!) but they don't taste very good (HEARTBREAK!) so I canned them when I was done with the cookies. Hoping they make a good marinara sauce. Â Back to the cookies: the dough came together nicely, and looked very similar to your classic Toll House dough – light and fluffy.
The Thomas Keller recipe makes what I would consider a decent amount of dough for a decent amount of cookies. I learned a few years back that, for a household of two, I could easily freeze half the dough after shaping it into balls, and have cookies at the ready for months! I love this trick.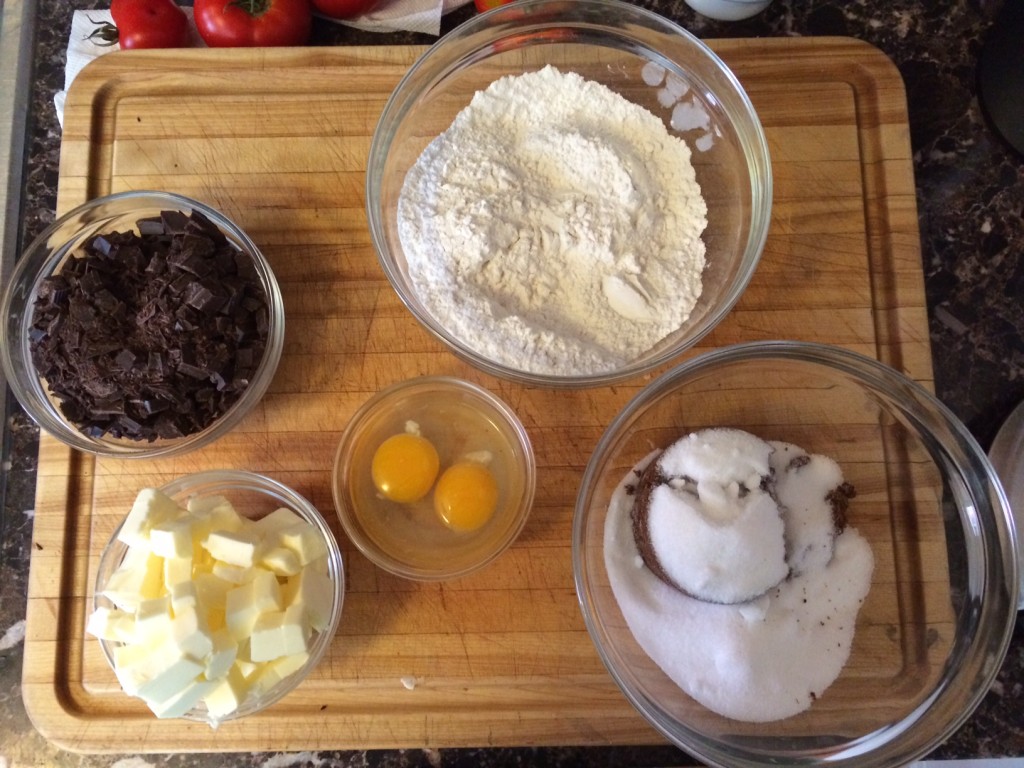 This recipe has all-purpose flour, baking soda, salt, dark muscovado brown sugar, granulated sugar, butter that has been cut into little pieces, two types of chocolate (72% and 55%), and eggs. The thing that makes these cookies unique is the dark brown sugar. If you haven't tried dark muscovado brown sugar, I would highly recommend making these cookies at least once. It is a special ingredient, that is for sure. Â It can be found at specialty stores like Whole Foods, or online. Pricy, but oh so worth it for the complexity of flavor and depth it adds to a basic chocolate chip cookie. Because of the dark muscovado sugar, the dough is very dark compared to the traditional Toll House dough. Do not be alarmed.
I tasted each dough side-by-side and both were delicious. I liked the blend of chocolate and depth of flavor in the TK recipe, but I loved the creaminess of the Times recipe dough. I think if you were a real cookie-dough fanatic, you would probably lean toward the Times dough over the TK dough…. but you will have to tell me once you try them both.
After a cool 24-hour chill in the refrigerator, it's on to the baking! Both cookies are baked at 350. The Times cookies require a bit of a longer baking time than the TK ones, so I made sure to bake them separately. Also, as soon as the Times cookies come out of the oven, you sprinkle them with sea salt. I used Fleur de Sel because that's all I had.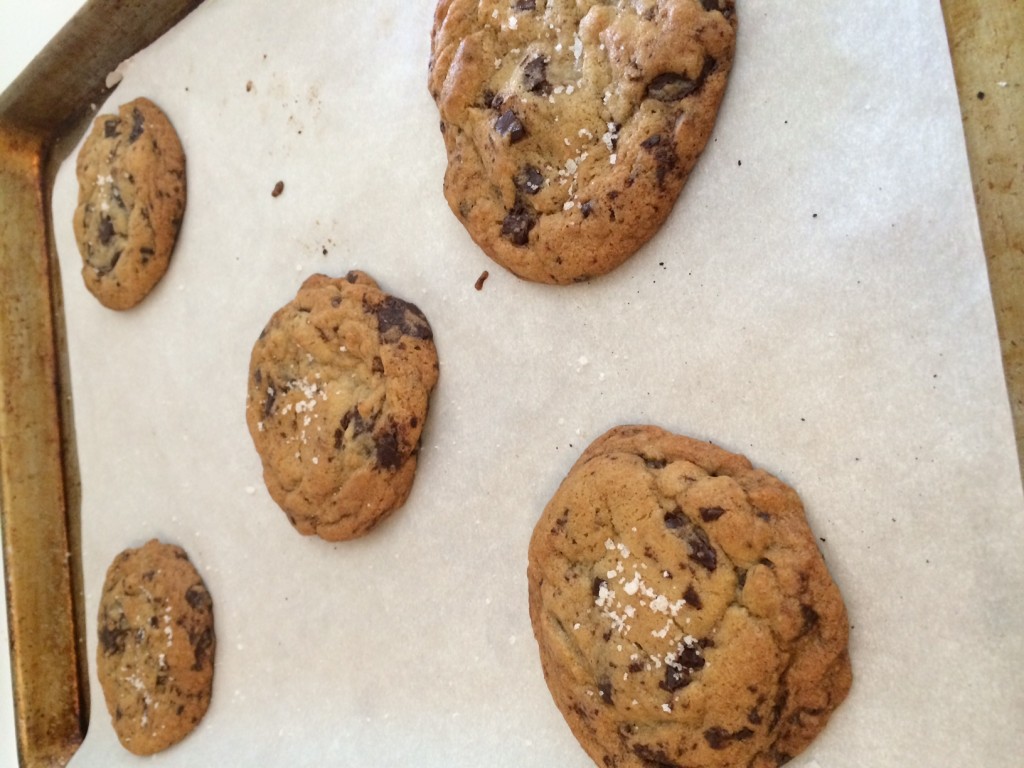 I mean….these NY Times Cookies look incredible. I'm trying to decide if they would look as good without the salt, and I really don't think they would. Just imagining the hint of salty aftertaste is making my mouth water.
Here are the Thomas Keller Cookies.
Wow. Again. Based on the look of these, I feel as though they would be chewy and have that "fresh out of the oven" melty chocolate taste even a few hours later.
Here are both cookies cooling side-by-side so you can compare.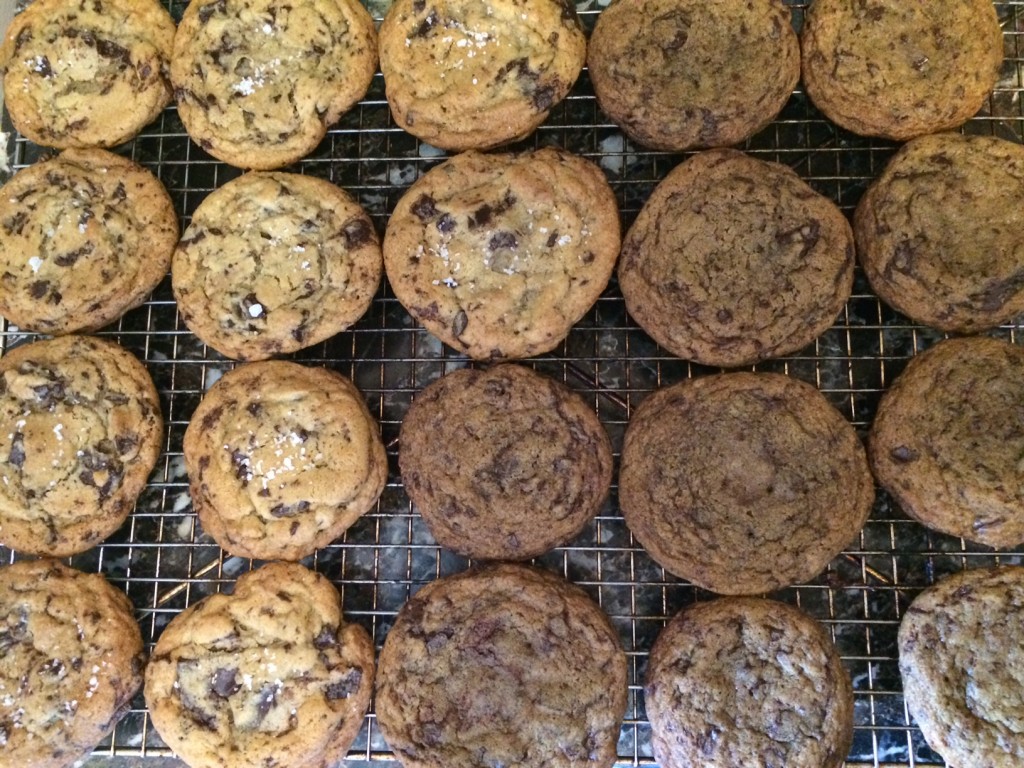 AND NOW, the most important part : tasting and opinions.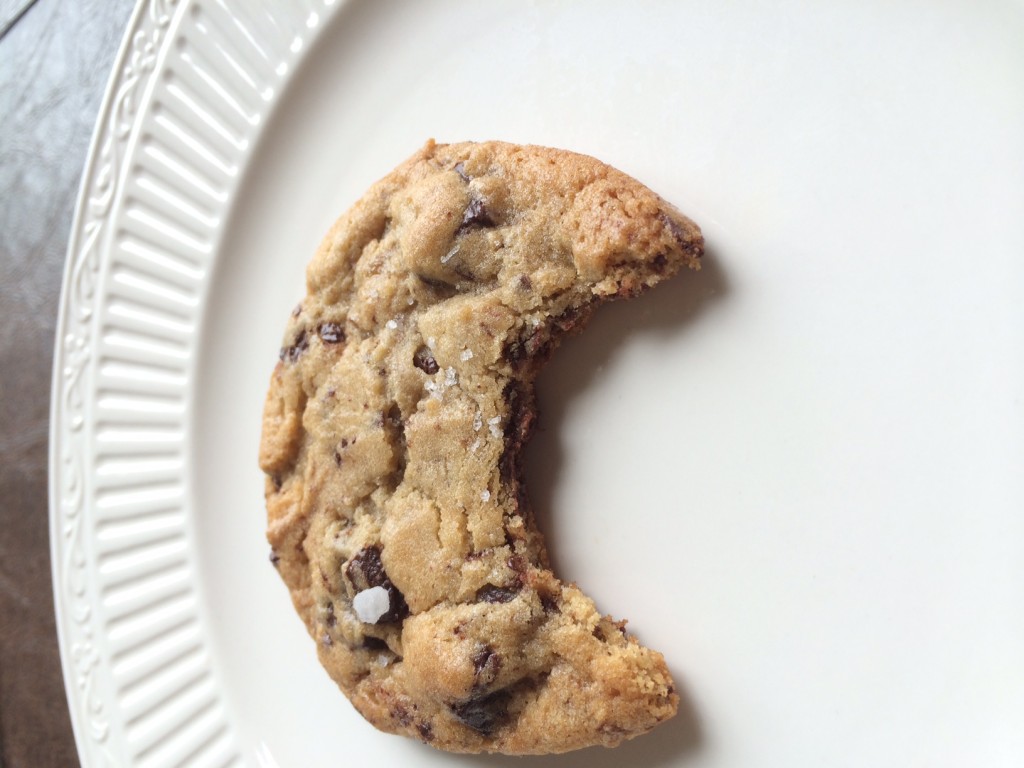 New York Times Recipe: This cookie is fluffy, buttery, and tastes like an incredible version of a traditional chocolate chip cookie. My favorite part is the salty bite on top and how that blends in with the buttery sweetness. I don't love the dark chocolate, and would want to try this with a more traditional semi-sweet as opposed to the dark I used. Â I also want to try it with walnuts, as I am a walnut-in-my-cookie kind of gal.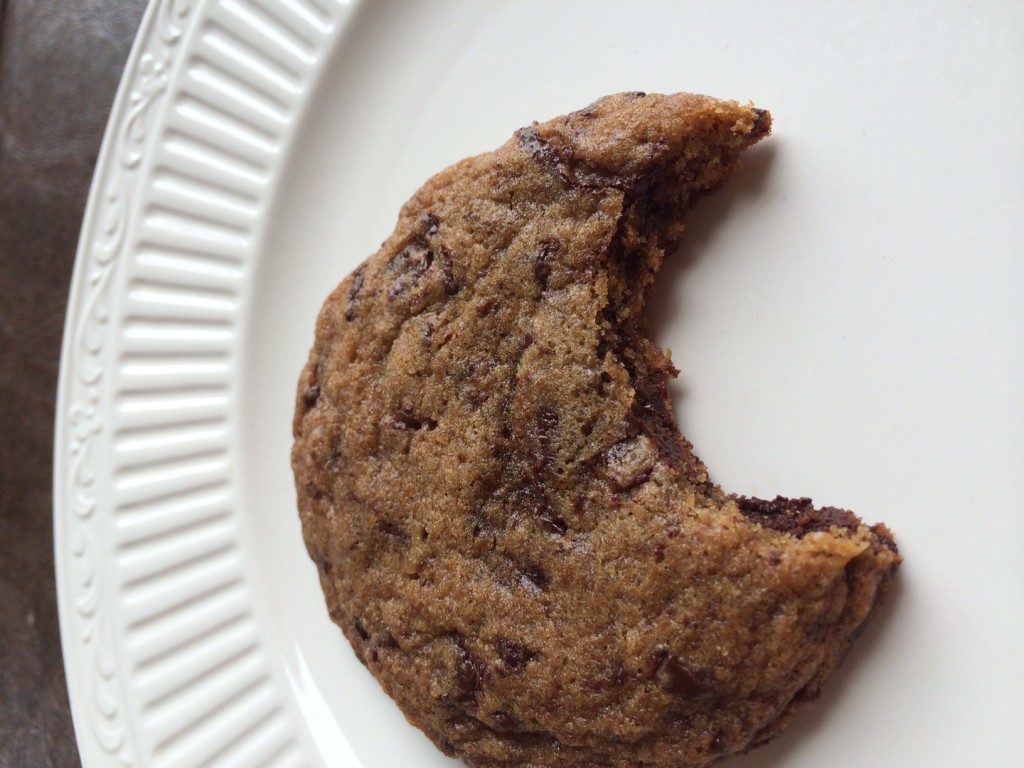 Thomas Keller Recipe: This cookie is soft, chewy, and full of depth. It has similarities to a traditional chocolate chip cookie, but not many. The molasses from that dark sugar, as well as the blend of chocolates, give it something unique that keeps me coming back for more. This cookie does not taste good with walnuts (I have tried), but could use a little added salt – maybe I will double the salt in the recipe next time I make these and see how that goes.
Overall, these are both awesome and delicious versions of the chocolate chip cookie, and I would highly recommend them both! I think my heart is still won by Thomas Keller's version, HOWEVER, I am going to make a few quick tweaks (mainly lowering the intensity of the chocolate I use and adding walnuts) of the NY Times recipe and could easily see that becoming my new favorite. Â For those interested, here are the recipe links:
The New York Times Chocolate Chip Cookie
Thomas Keller Chocolate Chip Cookie
Hope this was a fun end-of-summer post for you. Let me know if you make either recipe, and what your thoughts are along the way!
~Kristin