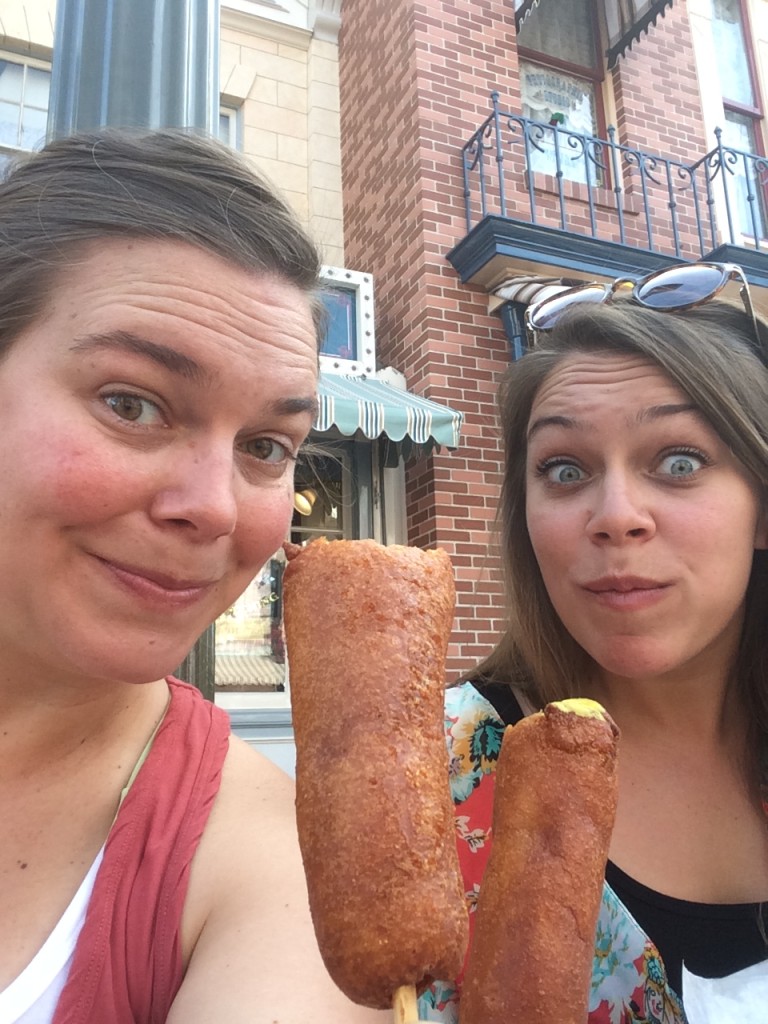 I spent the morning at Disneyland with my sister Kimberly a couple of  weeks ago, which was super fun. I don't get too many Disneyland trips in anymore, now that I am working full time, but spending a Saturday morning there was a blast. We had corn dogs, ice cream, and rode a couple of rides. The ideal day at the park, if you ask me.
Glenn and I finalized and officially ordered Branch's headstone. You may recall us working on his headstone and thinking we were in the final stages months ago. It is honestly surprising how difficult that entire process was. I never would have guessed it would have taken us over a year to order it, but it did.  I am glad to have the ordering finished, but am also grateful we took our time. I am sure it will be hard to see it in the ground once it is there, but I think it will also be nice in some ways — his name will be seen by all who walk by, and that is special in a way. I hope the gravestone will be a way that his legacy continues.
I feel like I do three things: work, walk, sleep. Maybe four things: I cook, too. My soul is in this strange spot, where grief is taking up less space, but is still taking up a good deal of my energy. Â I imagine this is a frustrating place when you are a friend of mine, or an acquaintance even. I sense a desire from some for me to return to my former self: Â the pre-grief Kristin they were used to. Â Honestly, I get it. Â I would probably feel the same way if I were them.
 
I try to show myself grace, to be gentle, to hold myself to no one's expectations. It is hard, though. It is hard to disappoint friends. It is hard when relationships change. It is hard to be the only one in the room who has lost a child.
 
I went to a women's event with some friends the other night. It was an enjoyable event and I was with safe people, and am so glad I was able to attend. As the evening began, we were all sitting in a circle, and the leader asked us to introduce ourselves by saying our name and how many children we have.  This was a first for me, but I think I handled it ok. It was a small enough group that I didn't feel the need to hide, but my heart was palpitating as it got closer to my turn. I said my name, and said that I have no living children but my son Branch passed away a little over a year ago.  It was received well, as far as I could tell.
 
There is a new pair of jeans in my closet, and I am mildly obsessed with them.  My favorite jeans (before these ones) were the Madewell high-riser skinny. This latest pair are the AG legging jean. They might as well be sweatpants, they are so comfortable and awesome. And yet, somehow they are significantly more flattering than sweats. I love them!
 
That seems like enough of an update for today! Maybe I will write again in a few days, but I guess we'll just have to see. 🙂
Much love,
~Kristin
 
Isaiah 66:12-13
For this is what the LORD says: "I will extend peace to her like a river, and the wealth of nations like a flooding stream; you will nurse and be carried on her arm and dandled on her knees. As a mother comforts her child, so will I comfort you; and you will be comforted over Jerusalem."