The first week of January, as we were still celebrating the Twelve Days of Christmas, I created a little space for myself to do something I hadn't done in a year :: I gave myself space to dream.
At the beginning of last year, 2014,  I remember feeling like hope, and any chance of happiness, died when Branch died. I felt as if all life were lost, and not just for a season, but forever. It seemed the only form of mercy would be God returning and ending my pain. For a full twelve months, maybe more, dreaming became something sweet, innocent, well-meaning friends did, or suggested I do. Dreams, for me, were impossible. In my inmost being, sometimes they still are.
At the beginning of this year, 2015, I found myself ready, waiting, wanting to dream again, even if just a little. Â And so, on January 4th, I sat on the leather chair in our living room, I used my colorful pens, I let the dreams flow — big and small. Here is what I came up with.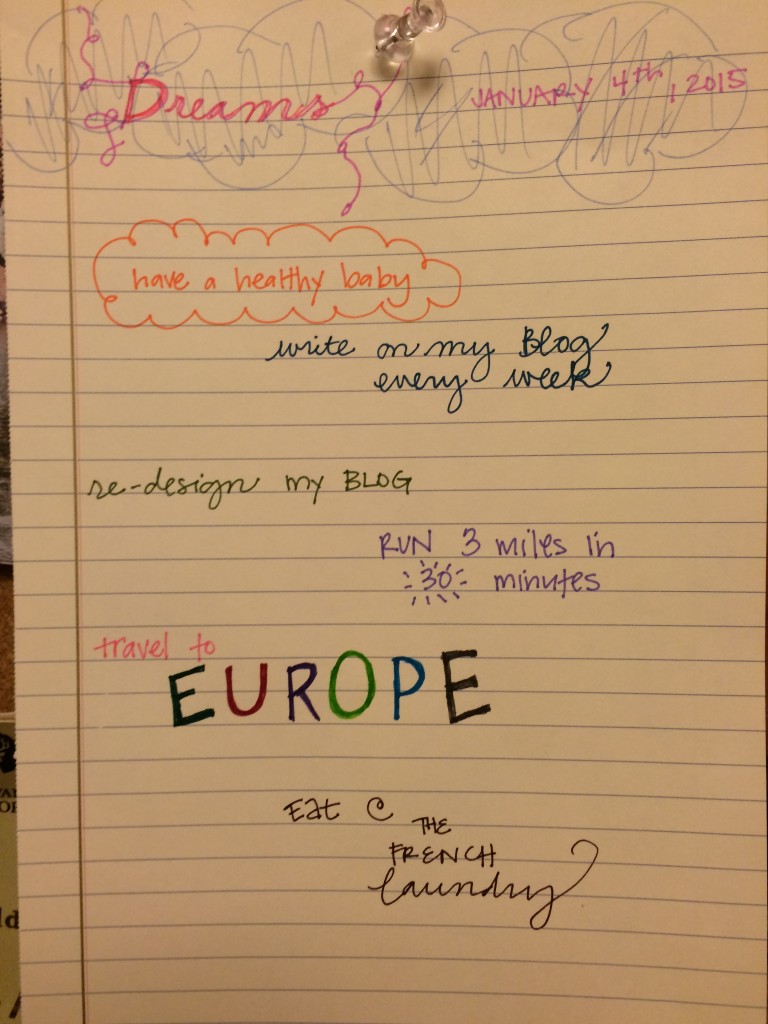 Have a healthy baby. Write on my blog every week. Re-design my blog. Run 3 miles in 30 minutes. Travel to Europe. Eat at The French Laundry.
Dreams are different than goals. Dreams don't need check-lists or priorities. Dreams don't even need to happen. They are simply dreams. A picture of what the future could be, without any hidden agenda or judgement. Â Dreams.
May God's grace be sufficient for you today, whether you are able to dream or if the dreaming will just have to wait. You and I are so very loved.
~Kristin
Romans 8:32  "He who did not spare his own Son, but gave him up for us all—how will he not also, along with him, graciously give us all things?"