I took this picture a few minutes ago. I was sitting in the large, beat-up leather chair in our living room that belonged to an elderly woman up until about a month ago when Glenn drove to Poway to buy it, along with the matching ottoman, for $100. My legs were draped over one of the chair's large arms, facing the open window. The summer sun had warmed up our living room, making it muggy enough to feel like I had walked through a light dew, but not so hot that beads of sweat were actually running down my face.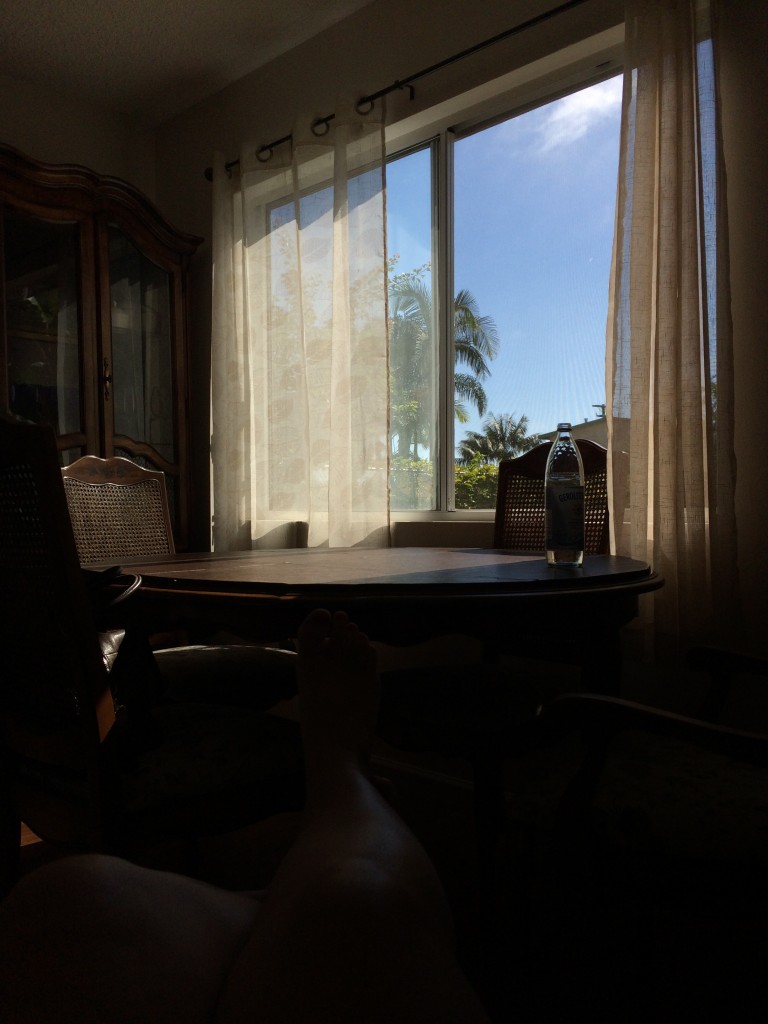 I was, and still am, sipping Gerolsteiner sparkling mineral water. The sparkles in Gerolsteiner are tiny, firm, almost potent, if sparkles can be potent. They remind me of the season of life where I was introduced to Gerolsteiner – nannying a little boy who was adopted from Russia, with the sweetest, kindest German mother, and an elderly American father. I was a senior in college and they chose me as their nanny because I spoke German. They took me with them on their family vacation to Bermuda. That was a good season.
I noticed the tan on my legs. More than noticed — I admired it, actually. That tan is the result of many hours of walking, running, and hiking around the county. I noticed a slightly slimmer outline to my legs and admired that, too, again the product of many hours of walking, running, and hiking around the county.
My mind went from my legs to this month, July, and the uncertainty it holds. My parents in town. Financial changes. Job interviews. Seven months of life without Branch.
God, take me, hold me, guide me when I do not have the strength to go on.
I took another sip of Gerolsteiner, and the ocean breeze rushed through the window, over my legs, and all around the room. It was refreshing, peaceful, kind, cool. I thought of God. Isn't that just like Him, to provide a breeze when He knows it will feel be the most refreshing. I thought of church. Of how I cry, at least a little, every week. And wouldn't you know what brings more tears than anything isn't sorrow or loss or death — it's the tugs on my wounded heart.  It's the kind little nudges that tell me God is who He says He is, even in my brokenness. He is kind. He is good. He is gracious. He provides. His promises are true. He sees me. He sees Glenn. He sees Branch.
I got two letters today. One was handed to me by my sister, Kimberly, #3. Beautiful penmanship spoke Angela Miller's sweet words of comfort: "So breathe, mama, keep breathing. Believe mama, keep believing. Fight mama, keep fighting, for this truth to uproot the lies in your heart – you didn't fail. Not even a little." I cried when I read it, and cried again when I wrote it down here.
The other letter came a few days ago from my friend Laura, to be opened today, containing much kindness. She shared Nahum 1:7.
"The LORD is good, a refuge in times of trouble. He cares for those who trust in Him."
May July bring refreshment, peace, kindness, and a cool break from the heat. Because a break from the heat of a broken heart sounds oh so refreshing to my soul.
Seven months.
~Kristin