It's that time of year.
The time of year where the mall is ridiculously full, where people are maxing out their credit cards every day, and where the scarf I've had my eye on at Banana Republic has sold out since, apparently, the scarf is this season's go-to gift.
This year, more than any, I have had trouble figuring out what to get for Glenn.
First I thought: an iPad. I mean, what a treat! He has a super old iPod, an old phone, and a beat up computer. It would be such a surprise, and he would LOVE it. Oh, and it's pretty. Look!
Then I realized the iPad is $500-$700. There is no way that is happening in this decade.
On to the next big thing. Or so I hoped.
Last night, as I was recovering from the Death Flu, I found an amazing pair of shoes that would last him a lifetime and are oh-so-classy. Allow me to introduce you to the Alden New England Wing-tip Oxford.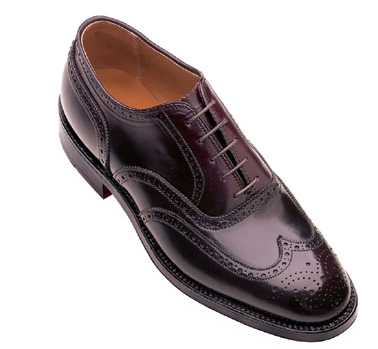 Here was my thought process once I saw these shoes:
"Oh these are awesome! He has really been wanting a nice pair of brown dress shoes! These are perfect! Man, they look like they're really well made, too, so they would last forever and he could dress them up or dress them down. I bet I could find a couple hundred dollards to buy Glenn the greatest shoes ever, and he would be so surprised! Yippee!"
And here was my thought process when I saw the $635 price tag:
"Nevermind."
So here's the deal, friends:
I have no gift for my husband.
Zero. Zip. Nada.
This, for some of you, is not an issue at all, but I am the ultimate gift lover. I love to give gifts, I love to get gifts, I love gifts! And EVERY. OTHER. YEAR. I have had awesome, thoughtful, fun, beautiful, surprising gifts for Glenn but this year I have NOTHING.
Maybe I'll have to make him some cookies.
And with that, I'm off to Goodwill to see if I can't find a pair of Alden Wing-tip's in a size 11. I'll keep you posted.
~Kristin